European media research organisation
The mission of EMRO
EMRO is a registered association with the objective to promote contact and discussion of individuals working for organizations engaged in audience measurement at a national level for any medium or combination of media. The main activity is to hold an annual conference in the country of one of its Members.
Individuals attending EMRO conferences are active in either the management, planning, execution, audit, interpretation or application of audience measurement and media currency services.
In 2024 the conference will take place in Vienna, Austria, on June 2nd-5th.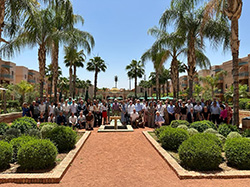 EMRO Group Photo, Marrakesh, Morocco 2023